sim update April 2017
EURO AIRPORT EVENT HOSETD BY THE CONSUL GENERAL OF SWITZERLAND ON A POSSIBLE DIRECT CONNECTION CHINA-BASEL
This year marks the 10 year anniversary of the sister city partnership between Basel and Shanghai. Taking this opportunity, the Consul General of Switzerland in Shanghai, Mr. Alexander Hoffet and the CEO of Basel Euro Airport, Mr. Matthias Suhr invited potential stakeholders including airlines, freight forwarders, Shippers in Shanghai etc. to the Euro Airport promotion event at the Residence Consul General of Switzerland on April 6th, 2017.
Euro Airport is strategically located in Basel, the heart of Europe serving North-Western Switzerland, South-Western Germany and Eastern France. It is one of the most active and economic successful area in Europe in terms of higher education, research and high-tech manufacturing including breakthrough pharmaceuticals and chemicals. The region is highly export oriented and a hub of international logistic companies. The guests had the opportunity to meet the team of Euro Airport to learn about the business opportunities the region offers and also to expand their network.
During the event, Sabine Horvath, Head of External Affairs and Marketing of the Canton addressed a few words on behalf of the Canton of Basel-Stadt and gave a brief overview about the prosperous Sister City Partnership, which Basel and Shanghai are commonly maintaining for exactly 10 years now.
The CEO of Euro Airport and Vice-President both gave speeches about the introduction of Euro Airport and the potential to create a direct connection between both cities of Shanghai and Basel.
All participants enjoyed the successful event at the residence of the Consul General.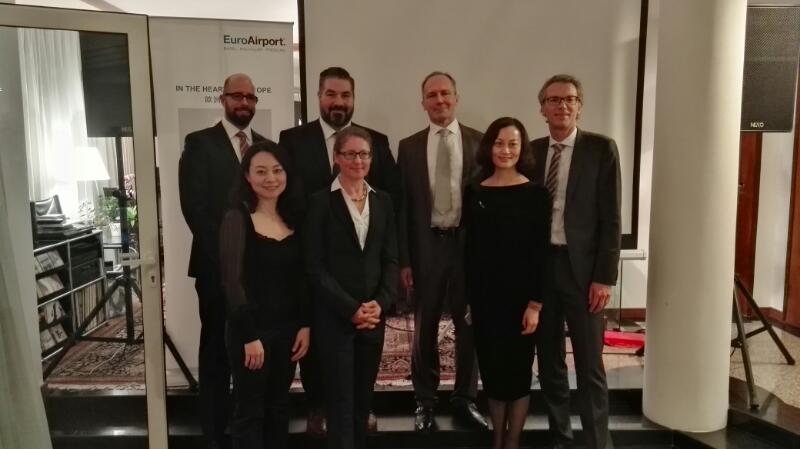 Team of Euro Airport together with Sabine Horvath, at the Residence Consul General of Switzerland
SWISS SME CHINA PUBLIC EVENT ON UNMASKING DIGITAL MARKETING IN CHINA
The Swiss Association of Small and Medium-sized Enterprises in China (Swiss SME China) is delighted to invite you to the Public Event of May 2017.

The International Advertising Unit of China Internet giant Qihoo 360, who provides search advertising, display advertising, app promotion, KOL marketing and big data analytics services for overseas marketers to connect their brand with 800 million Chinese netizens. Since the establishment in 2014, the International Advertising Unit of 360 has helped over 250 clients in Hong Kong and overseas markets, such as Ebates, Hotels.com, Sasa.com and FXCM enhance presence in China.
The explosive growth of outbound tourism and purchasing power has made China's consumers the most attractive target market. However, most overseas marketers have been encountering challenges in delivering messages to their audiences and positioning its products in the right way. During this year's SwissWeek, we will be explaining China's latest digital landscape and demonstrate how to derive insights from 360 Big Data Platforms for boosting business in China.
Don't miss the opportunity to gain insights from Mr. David Ip, General Manager of Qihoo 360 International Advertising Unit.
What You Can Learn:
Understanding China's Digital Landscape and Challenges for Advertisers
Key and Effective Advertising Channels in China
Leveraging 360 Big Data Platforms to Discover Consumer Insights
How to Reach Your Target Audiences in China Precisely through 360 Advertising
Case Studies
For detailed event information, speaker profile and registration, please click on here
SWISSWEEK SHANGHAI 2017 OPENS ITS DOOR IN MAY
Swissweek China's 5th anniversary edition under the motto, "Intelligently made in Switzerland" will take place from Wednesday, May 10th to Sunday, May 14th 2017 in Huaihai Park in Shanghai. It will present Switzerland, its culture, innovation and products to the public. Visitors will also be invited to relax at the Swiss Café which will offer a selection of Swiss food and beverage.

The event is under the Patronage of the Consulate General of Switzerland in Shanghai, freely accessible to all public and organized by sim (selective international management).  This year, the SwissWeek is also under the financial support of the Swiss export promotion agency, Switzerland Global Enterprise, which is promoting the expansion of Swiss companies abroad.
Moreover, the public will be introduced to one of the most promising young instrumentalists in the Swiss music business who knows exactly how to use the unique sound of his pan flute to create a very new kind of soundscape for the fascination of his audience. Moreover, a co-performance with a Chinese "erhu" player is organized to amaze the Chinese public.
Last but not least, Swiss companies will present and sell their products at the exhibition, including:
Food: Cheese, yoghurt, chocolate, ice cream, infant products, herbal sweets
Beverage: beer, wine, vodka, gin, milk
Consumer goods and equipment: air cleansers, cosmetics, cook wares and kitchen appliance
Come and join us to experience the lifestyle of Switzerland in China.
More information on www.swissweek.com or follow us on wechat simply by scanning the QR code.