sim update December 2015
SWISS SME CHINA: VERY SUCCESSFUL KICK-OFF EVENT
Thanks to the great support from the Consulate General of Switzerland in Shanghai and Swissnex, Swiss SME China has achieved a tremendous success for its kick-off event.
On November 2nd, the kick-off event of Swiss SME China was held at Swissôtel Grand Shanghai with over 50 participants. It was opened by Mr. Alexander Hoffet, Consul General of Switzerland in Shanghai welcoming Swiss Association of Small and Medium-sized enterprises (SKV) to China. The Representative of SKV in China and the Head of Asia-Pacific of mageba, a very successful Swiss SME in China were invited for speeches and a discussion with the audience during the Q&A session.
Mr. Michael Lehmann, General Manager of sim (selective international management) – the Representative of Swiss SME in China – talked about the establishment of the SKV platform abroad as well as its concept, purpose and service especially in China. Dr. Pascal Savioz, the Head Asia-Pacific of mageba had a speech emphasizing the achievements, success factors and challenges of doing business in China. Following the two pragmatic and instructive speeches, participants actively exchanged ideas and knowledge with the speakers.
As Dr. Savioz rightly pointed out: "It is a great achievement, that this platform now stands at the disposal of Swiss SMEs in China" and Michael Lehmann added: "We shall assist both, existing and new SME's in China to access information and practically exchange their know-how among each other"
A cocktail reception sponsored by sim was then hosted for further communication and networking. The SKV platform is expected to be enhanced and expanded through the representation in China to enable Swiss SMEs going abroad and exploring potential sales opportunities and synergies in collaboration with other Swiss SME China.
The evening was a significant milestone for the Swiss SME China to kick off the representation of SKV. We look forward to welcoming more Swiss SMEs and being at their service.
For further information please visit either sim's website, the Swiss SME association's page or contact us under: info@swiss-sme.org
SWISSWEEK WEIDIAN HITS THE TREND OF ON-LINE SALES IN CHINA
Transaction values of China's B2C online market reached 503.6 billion yuan with an increase of 49.7% in the third quarter of 2015 compared to the same period in 2014 according to Analysis¹. Also the magnificent effect of online sales in China has been proved again on November 11th that Alibaba achieved 91 billion yuan during the Double 11 shopping festival.
E-commerce is changing the way Chinese consumers think and behave about shopping, especially with the development of Wechat. Wechat has gradually become one of the most popular Applications according to its monthly active users (MAU). By the second quarter of 2015, the MAU of Wechat has reached 600 million covering more than 200 countries and over 20 languages². People use Wechat as a multi-functional tool such as online shopping, taxi ordering, tickets buying and other activities in daily life. The role of Wechat has gone beyond messaging and communication.
More than 7'000 visitors have visited the site of SwissWeek weidian since September and the number of visitor increases fast every day. Eight authentic Swiss brands in Food and Beverage, cooking wares, air purifiers, medical equipment and toys have officially launched their products in the SwissWeek weidian and many more Swiss brands are expected to join. This unique online store aims to grow into an all-in-one Swiss online shop to continue the concept of SwissWeek in the digital platform in order to increase the brand awareness and their sales performances as well. Please do not hesitate to write to us info@sim.biz if you want to promote your brand and your products through SwissWeek weidian.
Feel free to scan the QR code and see what we are offering for Christmas.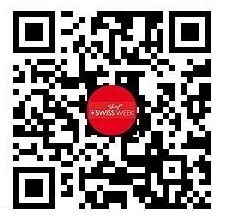 ¹Source: China Internet Watch
²Source:Tencent Quarterly Report 2015 II