sim update October 2016
sim COLLABORATES WITH ZHAW AND SWSS SME CHINA TO BUILD UP THE COMPETENCE CENTER CHINA  
The Competence Center China (CCC) for Swiss SME is an initiative of ZHAW School of Business and Law, Swiss SME China (the China Representation of the Swiss SME Association) and sim (selective international management) Group. It is the first and only topic- and case-based center that exists to date in the Sino-Swiss business environment.

By focusing on present and future business issues that particularly Swiss SMEs are facing during their business undertakings in China, the CCC provides you with concrete, pragmatic, experience-based information & services to assist your business in China. Through the collaboration of academia and on-site consultancy with many years of experience in the Chinese market, our center is perfectly positioned to gather and provide you with up-to-date business insights and valuable problem solutions.
A monthly Newsletter will be issued by the Center whose topics are relevant to Swiss SMEs in their China-related activities which will be treated academically and completed with the view from the practice as well. Its website-to-launch contains a Knowledge Center offering you on-click access to information. Furthermore, it features a Service Center including sim's After-Sales and Maintenance Hub, which allows you to see concrete solutions our center can offer you, be it in the market entry, during operations or for your Maintenance and Service needs.
We are ready and determined to grow with your companies in the Sino-Swiss business environment and be the No. 1 Competence Center for SME and China specific knowledge and services.
JOINT EVENT ON INNOVATION BY SWISS SME CHINA AND ZHEJIANG PROVINCE 
On September 22nd, 2016 the joint event on innovation was held at Franke Kitchen World Shanghai with over 60 participants.  The event was organized by Swiss SME China and Zhejiang Provincial Department of Commerce Shanghai office to present the innovation developments and achievements both from Zhejiang, China and Switzerland, and to develop the network for both parties in the purpose of exploring new collaborations in innovation and incubation. At the forefront of the Swiss Chinese Innovative Strategic Partnership agreed upon by the Presidents of both our countries on April 8, 2016, Swiss SME already contributes actively to this important exchange between the two nations.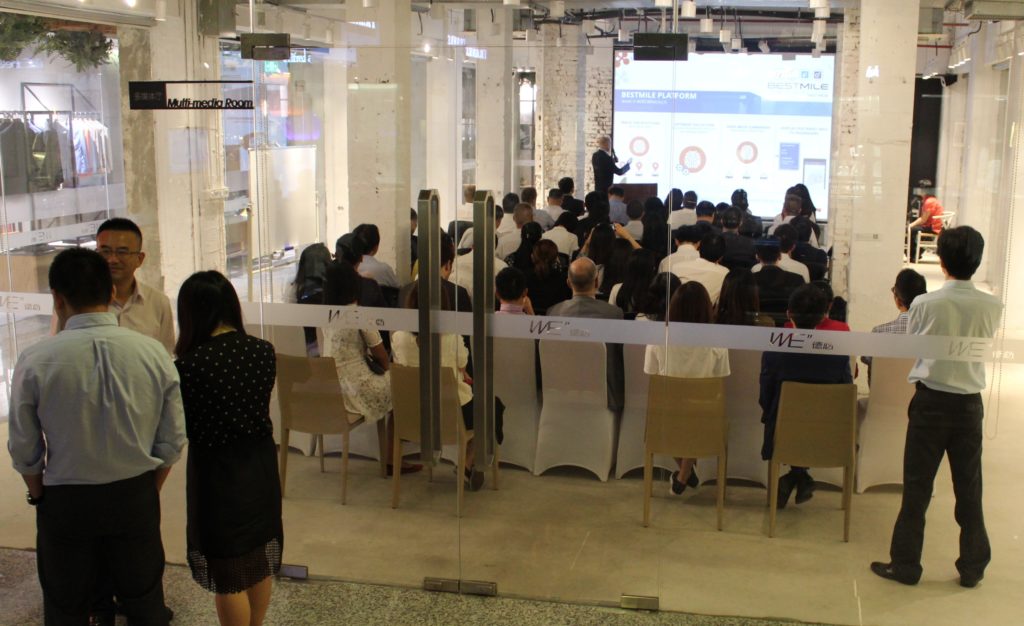 Mr. Ma Jianguo, Deputy Director-General of Zhejiang Provincial Department of Commerce and Mr. Pascal Marmier, Vice Consul General of Switzerland in Shanghai and CEO of Swissnex were invited to introduce the innovation developments in both Zhejiang Province, China and Switzerland.
Ms. Chen Fei, Section Chief of Xiaoshan Sino-Swiss Industrial Park/ Xiaoshan Economic & Technological Development Zone then gave the speech about Zhejiang Sino-Switzerland (Xiaoshan) Industrial Cooperation Park and was followed by the speech of Mr. Wang Yu, General Manager of ABB Hangzhou Winmation Automation Co., Ltd., in ABB Intelligent Fab Automation in Xiaoshan.
A buffet dinner sponsored by Zhejiang Provincial Department of Commerce, Franke Kitchen World and SATIS International Trading was hosted for further communication and networking.
The evening was a great success and we look forward to continually act as the bridge between Switzerland and China, and help active parties to meet, develop their knowledge and to discover business opportunities.
SMOOTH AND SUCCESSFUL MARKET ENTRANCE TO CHINA
sim (selective international management) provides one-stop service for your Chinese market entrance. We assist you in all administrative and legal needs concerning your company set up.
We can provide the services for setting up different types of companies (like typical Chinese company, WOFE or Joint Venture) in Mainland China according to the sources of investment funds, and we also provide incorporation services in Switzerland as well as Hong Kong to support your business entry in China if applicable, whatever structure is best suitable to your business model.
On behalf of and in close collaboration with customer, sim prepares necessary information, forms and documents, according to the laws and regulations of the people's republic of China to setup a targeted company in Mainland China. Our setup services include but not limited to:
Setup proposals and information verification
Relevant documents draft and preparation
Online and Onsite application for legal licenses
Tax registration services
Bank opening services
Other relevant services
In addition, we also have the capacity to support our customer in their trade mark registration if requested.
If you decide to wait before entering China, we offer the relevant services to become your right hand in China including but not limited to represent your interests and work for and on behalf of your company, so that your Business Partners are served best possibly in the way they are used to by your standards.
From logo walls and meeting facilities up to sales representations and Board Memberships, sim can on fiduciary basis help you grow and maintain your business in China.
SwissWeek WEIDIAN WELCOMED 13 SWISS BRANDS AND CONTINUES TO GROW
SwissWeek weidian shop has welcomed more authentic Swiss products during the past year than any other platform and now has 13 brands selling their products directly to the Chinese consumers. This unique online platform is steadily growing and we look forward to bring more Swiss products into the Chinese market. If you have some export inquiries, please contact us: info@satistrading.com
Since the biggest Chinese shopping Festival 11.11 is on its way, SATIS International Trading would like to offer you the Promotion-Set as well as other special discounts. It is only valid for one day on November 11th in Mainland China.
You may scan the QR code below and check on our products already.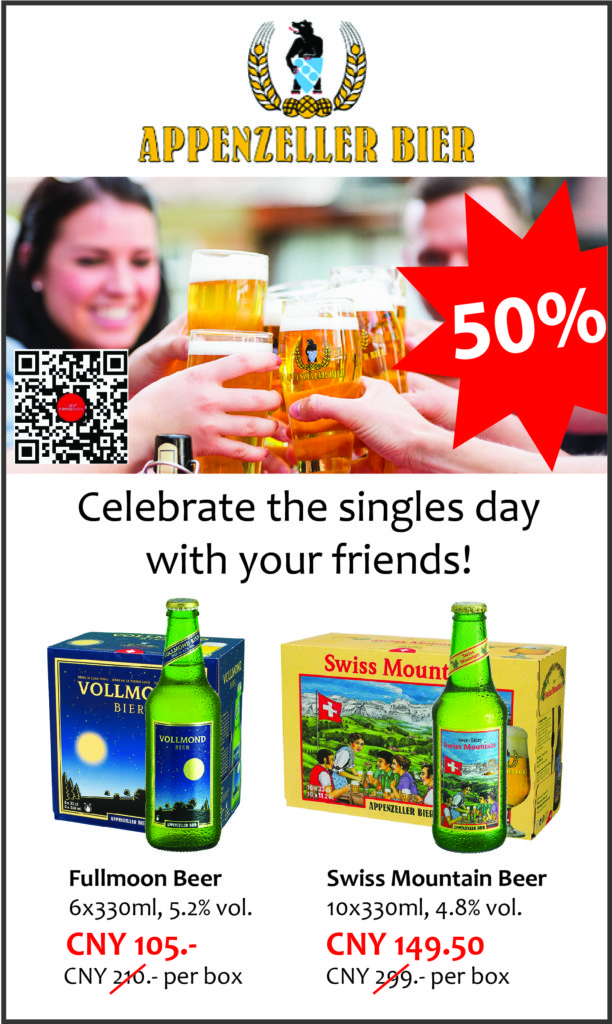 BRAND NEW: sim Q&A SESSION!
In every newsletter, we offer you an insight in some of the questions we receive and the answers we provide. We hope this is of interest to you as well!
Question: What is a Joint Venture (JV)?
Answer:  A Joint Venture (JV), most often describes a Chinese – Foreign Joint Venture, which is a legal entity created by two or more parties, generally characterized by shared ownership, shared returns and risks, and shared governance.  Foreign investors may be enterprises, other economic organizations or individuals.  The pure Chinese joint venture (only chinese partners) is currently limited to enterprises and other economic
organizations, but does not include individuals and individual enterprises. A JV is not the easiest, but sometimes a necessary and useful vehicle to operate in China.
Question: I plan to set up a manufacturing base in China, what do I have to consider?
Answer:  One item you need to think of early is to find the proper location to set up your factory. There is so many Industry Parks and Economic Development Zones in China, and all of them claim to be the best for your venture. Therefore, we normally will recommend a diligent research and comparison based on solid criteria like your industry, investment volume, specific requirements, economic and environmental impact, but also on softer factors like where your customers, suppliers and distributors are located, what workforce you'll need and which policies are crucial to your undertaking.
Question: What is wechat?
Answer: Wechat is a social media combining Whatsapp, facebook, twitter and more in one service offer, developed by Tencent in January 2011 in China. It provides text messaging, hold-to-talk voice messaging, broadcast (one-to-many) messaging, video conferencing, video games, sharing of photographs and videos (moments), as well as location sharing. Additionally, in China, users who have provided bank account information may use the app to pay bills, order goods and services, send money to other users, and pay in stores. It is a must-have App in China.